If We Could Talk to the Bureaucrats
The Sixth Shiny Bum Songbook
with more
Work Songs of the Public Service
as performed by the
Shiny Bum Singers
If We Could Talk to the Bureaucrats, A5, 48pp. ISBN 987 1 876668 15 0. Price: $7.00 (Australian dollars)
A new regime inevitably means a new razor gang, but for dedicated Shiny Bums, death by a thousand efficiency dividends just means greater productivity in the faithful recording of Public Service shenanigans.
Thirty eight more work songs of the Public Service, plus photos..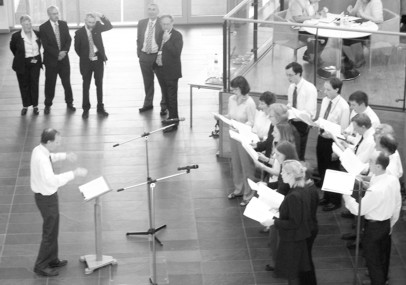 The choir of the UK Met Office singing Shiny Bums songs, watched by visiting Shiny Bums on their UK tour.
Contents
These are the songs in this book:
Favourite Things
Unnamed Malady
Down to the Bank and the GIO
Tiptoe through the Egos
Iím Leaving on a Jet Plane
Someone Shafted Evelyn
Workiní Through the Spam
Porn-Free
Googling in Windows
Evacuation Serenade
Too Soon
Man of Not Much Sorrow
No Work, No Work
Donít Cry for Me, Iím the Cleaner
If Youíre Going to Work Past Fifty
The Aussie Public Service
Provider Ten Three Five
Request from a Constituent
APS Values
Haka Before Battle In Senate Estimates Committee
Keep it Short
Laptops in the Sky
Telephone Call Centre
If We Could Talk to the Bureaucrats
I Hate Pollies on Telly
Iíve Been Working on the Wheat Board
Smug the Smarmy Treasurer
Ah Got Mah Bozos Working
Wouldn't It Be Loverly
Ministerial Responsibility
Folly, Folly What a Liar
We Will Sack You
Howard Times Come Again No More
Kevin Rudd
This Ole Lodge
Interest Rates are Rising
How Peculiar
Australia
Here is the title song from the book.
If We Could Talk to the Bureaucrats
Tune: If We Could Talk to the Animals
If we could talk to the bureaucrats, just imagine it,
Talking to the man in mandarin,
We could discuss with a Director, chat with an Inspector,
Tell them what a pleasure it has been.
If we could talk to the bureaucrats, learn their languages,
Maybe get a bureaucrat degree,
Study taxation and legal, audit like an eagle,
Sit on sub-committees, two or three.
Using words like "penultimate" and "vacillate",
Never knowing exactly what they mean,
Get the notes all printed up on laminate,
Before we shine them on the screen.
If we conferred with our lofty friends, us to bureaucrats,
Think of the amazing repartee,
If we could walk with the bureaucrats, talk with the bureaucrats,
Blab, converse and jaw with the bureaucrats,
Then they might talk to me
Copyright © Jim Street, 2008
Back to the Shiny Bum Singers Home Page
---