Am I Not Busy Enough?
The Fifth Shiny Bum Songbook
with more
Work Songs of the Public Service
as performed by the
Shiny Bum Singers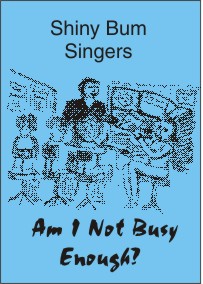 Am I Not Busy Enough?, A5, 36pp. ISBN 1 876668 07 5. Price: $7.00 (Australian dollars)
Flexible and responsive as always, the Shiny Bum Singers provide a frank and fearless run-down on the machinations of the public service and its masters, while making a unique contribution to the work-life balance..
Twenty six new songs, plus photos..
Why did the Bums cross the road?
Contents
These are the songs in this book:
Parliament Hill
De-fence Spending
Massive Budgets
Election Time
Inside
Now Iím 64
The Client Sleeps Tonight
Secret File
Clementine
Executive Perks
Mentoring
Daggy Suit
Can't Take My Hands Off Of You
Waiting
Whyís It Takiní a Year, Blue?
The Ten Meg Morris
Let the Movers Get Here
Morning Tea
The Finger Song
Am I Not Busy Enough
Flings
The Toast Song
Wild Flexi-Time
Drink ! Drink ! Drink !
The Staff Donít Drink Beer
Rugby Song
Here is the title song from the book.
Am I Not Busy Enough?
Tune: Am I Not Pretty Enough?
Chorus:
Am I not busy enough
Is my computer still broken
Do I talk too much
Am I outside smokiní
Donít I make you mad
Should I try it harder
Why do you keep on watching me
I work, sometimes, I let it wash over me
I sleep, I wake, I try hard to have a break
I come, I go, getting coffee makes me slow
I do the best that I can
Chorus
I surf, I play, Iím on the phone all day
I stop, I start, I try hard to play the part
I chat, I giggle, I stop to watch The Wiggles
I do the best that I can
Chorus
Why do you keep, why do you keep, why do you keep on watching me
Why do you keep, why do you keep, why do you keep on watching me
Copyright © Annette Selwood, 2004
Back to the Shiny Bum Singers Home Page
---