Have You Been Told Lately?
The Fourth Shiny Bum Songbook
with more
Work Songs of the Public Service
as performed by the
Shiny Bum Singers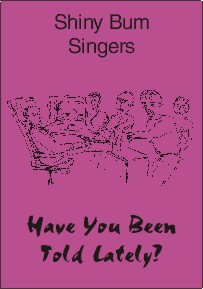 Have You Been Told Lately?, A5, 28pp. ISBN 1 876668 04 0. Price: $5.00 (Australian dollars)
As the Public Service staggers from crisis to disaster to catastrophe, the Shiny Bum Singers are hanging in there, greeting every cry of "boss overboard" with professional detachment and more new songs.
Twenty new songs, photos, and the Shiny Bums' Performance evaluation.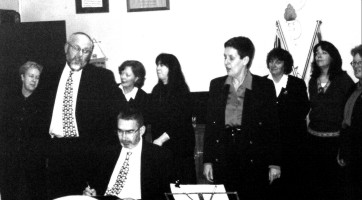 Here we are at the Jamberoo Folk Festival.
Contents
These are the songs in this book:
And I'm Late For Work Again
I'll Draw the Line (on the timesheet)
Fill The Form Out
Filing
The E-mail has Died
I Feel Shitty
Security
Giving Him the Drum
Only You
Have You Been Told Lately?
I'll Never Find Another Job
A Desk With Views of Gum Trees
Today I Retire from the Service
Dear Older Australian
Yer Losin' Em
White Straya
Throw, Throw, Throw The Kids
Norwegians Would
Oh Minister
Anthem
Here is the title song from the book.
Have You Been Told Lately?
Tune: Have I told you lately (that I love you)?
This team would work alright if we should lose you
You're no good around here anyhow
Have we told, with all our heart and soul, how we don't want you?
Well listen, we're telling you now
Chorus
Have we told you lately we don't need you
Must we tell you once again right now
Have we told you lately we abhor you
You bastard! We're telling you now
Our hearts won't break if you tell us that you're leaving
If you've received a better offer now
And we won't tell another living soul of your deceiving
They'll find out soon enough anyhow
Chorus
If you had done some more work and less sleeping
Maybe your dreams would come true anyhow
But you're one resource that in due course we won't be keeping
And that's what we're telling you now
Chorus
Copyright © Kerry Kennedy and David Meyers, 2002
The Shiny Bum Singers' other books, The Tiny Shiny Bum Songbook, It's Been a Long Year, They'll Go Ape at Our Procedures, Am I Not Busy Enough? and If We Could Talk to the Bureaucrats and the CD An Audience with the Shiny Bum Singers are also available.
Back to the Shiny Bum Singers Home Page
---
Boris Books, P.O. Box 1388, Woden, A.C.T. 2606, Australia