They'll Go Ape at Our Procedures
The Third Shiny Bum Songbook
with more
Work Songs of the Public Service
as performed by the
Shiny Bum Singers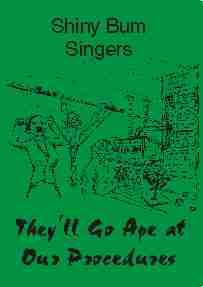 They'll Go Ape at Our Procedures, A5, 36pp. ISBN 1 876668 03 2. Price: $7.00 (Australian dollars)
With new themes and five new songwriters, the Shiny Bums go from strength to strength. As well as the traumas of workshopping, outsourcing and the farewell lunch, the Shiny Bums stick their teeth into the passing political parade. This book contains the words of 24 new songs and a poem, more photographs of the group in action, and the group's annual report (needed because we developed a corporate plan, which, of course, had to be reported on).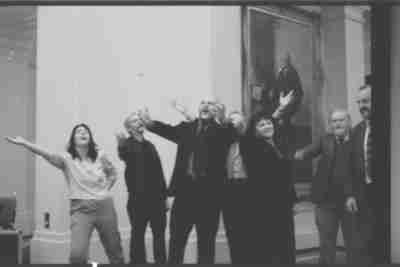 Here we are at rhAPSody, the combined public service choirs concert at Old Parliament House in Canberra.
Contents
These are the songs in this book:
Leave It, Colleagues, Leave It
Windmills of CI
The Old Filing Room
Smoking Satisfies
Word is to the Minister Gone
When the Auditors Walk In
Nancy - Re: Work Overflow
Go Tell It To Recruitment
Mein Boss
The Farewell Lunch
Blitzen the Brown-Nosed Reindeer
Down In The Corner
O Building in the Sun (Generic version)
The Smell of Money
Small Spender
The Politician's Outsource Tune
The GST
Oh What a Beautiful Evening
Goodnight PM
The Minister is Using his Phone
Book 'em All
Ye Dykes and Gays
Olympic Flame
Fatso's Picnic
We Three Kings are Orienteers

Here is one of the songs from the book.
Mein Boss
Tune: Eidelweiss
Boss of mine, boss of mine, every morning you meet me
All uptight, what a fright
With a snarl you greet me
Something goes wrong and you pass blame on
Pass blame on wherever
Boss of mine, boss of mine, burn in hell forever.
Staff of mine, staff of mine, I see you waiting for me
Small and pale, oh so frail
What a victim you'll make me
You do the work and I'll make the claim
Make the claim for glory
Staff of mine, staff of mine, that's the usual story
Boss of mine, boss of mine, every evening you leave me
What a sight, still uptight
Your manner can't deceive me
Something goes right and the credit's yours
Share the credit? Never!
Boss of mine, boss of mine, burn in hell forever.
Copyright © Kerry Kennedy, 2001
The Shiny Bum Singers' other books, The Tiny Shiny Bum Songbook, It's Been a Long Year, Have You Been Told Lately?, Am I Not Busy Enough? and If We Could Talk to the Bureaucrats and the CD An Audience with the Shiny Bum Singers are also available.
Back to the Shiny Bum Singers Home Page
---
Boris Books, P.O. Box 1388, Woden, A.C.T. 2606, Australia