Working for Clowns

Work Songs of the Public Service
as performed by the
Shiny Bum Singers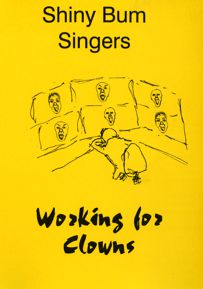 Working for Clowns, A5, 72pp. ISBN 987 1 876668 37 7. Price: $10.00 (Australian dollars)
At last a new songbook for the Shiny Bum Singers' 21st! Everything that the last dozen years has thrown at us graces these pages.

Our sense of smell grew keener for irresponsible governments past their use-by dates. Looming retirements added fire to parting salvoes at public service incompetence.

This book is of our new songs since the 2008 OmniBum, and launched back home where we started, at the National Folk Festival.

Celebrate with us!
55 more work songs of the Public Service, plus photos..
Back to the Shiny Bum Singers Home Page
---